June 11th Service: Envision your future.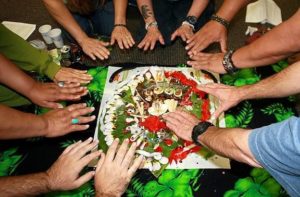 We may be upset or angry about our politicians or where we think the world is going, but instead of being angry or hurting others, we can ENVISION the lovely future we'd like to see!
Please join us at UUCF on

June 11th at 11am
for our
next Sunday
Service when our speaker will perform a Native American/Peruvian Despacho ceremony to celebrate summer and to help all of us dream a new world into being. We will offer gifts to Mother Earth and communicate our intentions for a beaut
iful future for the earth and our nation. If you like, you can bring candy, flowers, or leaves that will be used in the ceremony.
Our Speaker:
Liz L'Eclair is an Aspirant with the Unitarian Universalist Association and has been an Army Chaplain for 7 years. She has four children, whom she home-schooled, and they are are now in college and high school. She has degrees in biochemistry, acupuncture and Chinese herbal medicine, and a theology degree from Gordon-Conwell Theological Seminary. She is currently a doctoral student in Metaphysics. Liz thinks about quantum physics and the nature of reality and how it explains a bit about the divine. She is a trained energy practitioner and healer, and an intuitive and a life coach. She plays with Reiki and Four Winds-style shamanism. You may find her wearing the uniform, serving Soldiers, or on her motorcycle zooming off to an energy healing or a solstice ceremony.
Upcoming Services:
6/18 – Angela Tousey, Father's Day
6/25 – Trish Brownlee, Some Marys, 3 Jesuses, 4 Letter Words, and More: My Eclectic Spiritual Toolbox
7/2 – Summersong services begin!
Upcoming Meeting (after church service):
6/11 UUCF Board Meeting
All are welcome to attend our meetings!